The extra rest after an early evening was nice--we've done a lot of mile so far. This morning the high point is only about 10 miles away.
We arrived at Sylvan Lake for our climb up Harney Peak, elev 7242. The conditions were perfect, temperatures in the high 30s, partly cloudy, not much wind. Officially, the park didn't open until 8:00, but at 7:30 we were ready to go. Mike's "nervous energy" had kept him talking non-stop (even more than usual) as he bundled up in 5 layers. He reminded me of Calvin bundled up to go outside. We stopped about 200 yards in and I took off my jacket and Mike took off his top 3 layers. The hiking weather was actually pretty comfortable.
Snow! We were in 5 or 6 inches of it much of the way, but the trail was never hard to find, and several people had summited on Saturday so we always had footprints to follow. The hike up is a little over 3 1/2 miles, and in a little under two hours we reached the lookout tower on the summit. We were the first to the top for the day.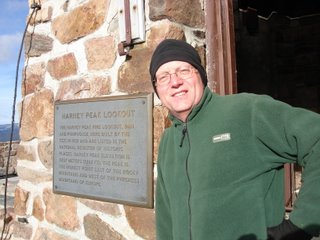 The view from the top is an amazing panorama of the Black Hills. We hung out for a few minutes, ate a few Oreos, and headed back down.
On the way down we ran into a couple guys from New Jersey who were doing the climb on the spur-of-the-moment. They asked if we had any water bottles they could buy. We gave them the two full bottles we had left. As we approached the parking lot, we found a cell phone on the ground which was probably theirs (there were only 4 of us on the mountain so far) so I set it on the hood of their car.
That's 26 state high points.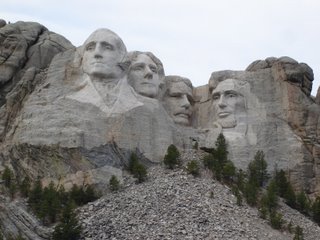 Next stop was Mt. Rushmore. As we pulled up to the gate, a herd of mountain goats was guarding the entrance. Mt. Rushmore is one of the most inspirational places I've been--the vastness of the artwork, and the symbolism of the images really makes me proud to be American.
I noticed that the Nebraska high point is only about a half-hour from Cheyenne, Wyoming. I called Brent Weigner, my bi-polar friend. Brent and I met on a trip to the South Pole, and we've been to the North Pole together as well. We arrived at Brent's and he took us out to CB & Potts brewery for a meal. Butt-Face Amber and Disorder Porter were the beers of the night. We spent awhile catching up on the latest adventures, and then headed back to his place for some rest.