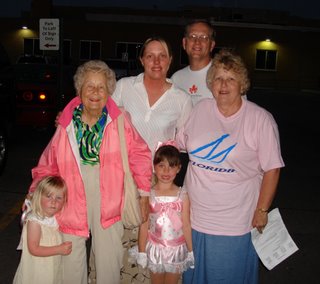 Since my last post. Let's see, what's happened?
Sunday May 6 took my whole family to a Whitecaps game to celebrate my mom & sister's birthday. Caps won. A good time was had by all.
Friday was the River Bank Run expo. Had a booth and signed up about 20 people for the marathon.
Friday night was Ashley's dance recital. Cute. She's probably one of the prettiest girls in the world. We took five generation pictures--my grandma, mom, Katie and the girls were there.
Saturday was the River Bank Run--and we finally had great weather for a change. Ran about what I expected, which isn't really very fast, then spent about an hour at the beer tent with a variety of friends. Took some pictures of Neil Sauter, the professional stilt walker who's going to walk the Grand Rapids Marathon on stilts and go for a world record. Met the guys from the Y at the Cottage. Went to a party at Bob's house and ended up skipping the next two parties we had scheduled.
Yesterday was a recovery day--didn't do much except work around the house. "Slept" in a bit, made french toast, bought a new pair of sunglasses, groceries, that's about it.
When I get home tonight, I'll add a picture or two. Maybe 5 generations.