It's been a wierd week. I can't seem to remember what day it is.
Thursday, after a short night's sleep following my Floriday trip, I worked for 5 hours getting some computers set up at Michigan Chief Sales, and then headed for Chicago to pick up Mike.
Of course, I was running late enough to hit Chicago way too close to rush hour. It wasn't bad though. Everyone there is intent on one thing--getting out of town. It was really pretty orderly.
We headed north toward our first high point, Timms Hill, near Ogema, Wisconsin, with the intent of getting fairly close so we could do it first thing in the morning. We got as far as Appleton before we stopped. (Appleton is the site of the Fox Cities Marathon, which I've done a couple of times.) We stopped for a quick beer at Fratello's. Their brewery, however, is in another of their locations, but I did have a pint of their local brew. We stopped for the night a few minutes later.
Friday morning. North to Timms Hill. Driving north through Wisconsin it gets pretty desolate after a while. For a city-boy like Mike it was a bit of an eye-opener. Little hunting cabins alongside the road here and there, lots of nice wilderness. We got to the park that's around the high point and found that the gate was closed. Guess we might have to walk in. The map showed the road going out the other side, so we drove a mile or so to check it out. It was open--but the road was one way, one lane, and coming at us. Oh well. I drove in anyway.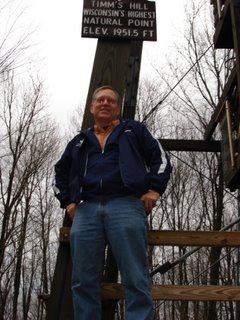 We were the only people at the park, so no traffic incidents were to be had. We parked the car and proceed to hike a couple hundred yards up a well-trodden path to the summit. Mike's first high point, Timms Hill, elevation 1951. The sign actually says 1951.5. Guess they wanted an extra six inches. (I'm not going anywhere with that one.) There's an observation tower to climb that took us above the treetops for a great panoramic view of the surrounding area.
Next summit is in the west end of North Dakota. This will be our biggest driving day.
It's Wisconsin. We found a cheese shop and bought some cheese. Then before leaving the state, we stopped at Das Bierhaus in Menomonie for a snack and a pint of Marzen. Alas, no beer glasses for sale again. Back in the car for the trip across Minnesota.
It was looking like Fargo would be a great place to stop for dinner. Cheese in Wisconsin, so I figured buffalo in North Dakota was the thing to eat. A buffalo burger and a pint of Broad Ax Stout at the Granite City Brewing Company was nice.
We figured getting to Bismarck would be a good jumping off spot for the night. And that's where this entry ends. Heading west this morning.