It was a nice, easy day. We slept in a bit after getting in pretty late last night, then headed from Bismarck to a spot near the little town of Amidon, ND.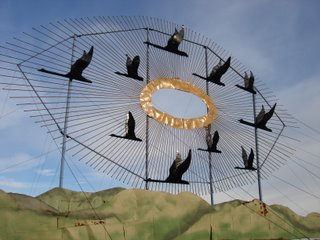 Neat stuff along the way--The Enchanted Highway near Regent, ND. Gigantic sculptures of birds in flight, deer crossing the road, and I found later, a few others that we could have seen if we had travelled a few more miles. Check 'em out at http://www.enchantedhighway.net/
The trail for the high point is down about six miles of gravel road before turning down a two-track lane for .8 miles to the trail head. Unfortunately, with the snow they got in ND last week (about 4 feet worth) we could only get about 2/3 of the way down it, and that was with a little jog over into the field to avoid getting stuck in the snowbanks. Still a little icy and as it warmed up, a little muddy underneath.
So, our hike was a little longer than the guide book said. At first, the trail was hard to find, but since we could see where we were ultimately going we just improvised for a bit. As we got farther up the mountain, it was more and more obvious where the trail was. Actually, it looks like everyone made up their own trail, as we kept finding new ones.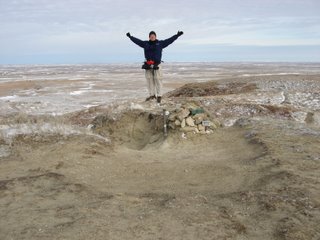 Anyway, after about 30 minutes, we reached the top of North Dakota, White Butte, elevation 3507 feet. We signed the summit registry, took a few shots, and headed back down. Mike has now bagged two state high points. It's number 25 for me.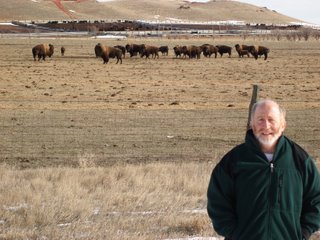 We were fortunate to find a farm along the way where they raise buffalos (bison) so Mike was able to see his first ever buffalos.
Next peak is Harney Peak near Custer, SD. It's only 40 miles or so from my friend Ben's place in Rapids City. I called him. He's in Kalamazoo. Guess we won't sleep at his place tonight. We stopped at the Firehouse Brewing Company on Main Street and I had a pint of Smoke Jumper Stout. Nice.
Tonight would be an early one. Nice and relaxing for a change. We checked into the Bavarian Inn in Custer, only about a 10 minute drive from tomorrow morning's trailhead. Had dinner at the Sage Creek Grill. Very nice salmon, washed down with a bottle of one of my favorites--Moose Drool, from the Big Sky Brewing in Missoula, MT.
Life is good. I should have a better connection tomorrow and post some pictures.
and the adventure continues....