Alternative titles:
(What I did when I didn't go to Brazil)
(We're Going With Plan B)
"Right now, we should be walking down the beach looking at hot Brazilian babes," Paul said yesterday, as we pulled off for lunch in the middle of Wisconsin. "Yeah, but Plan B wasn't bad either."
It all started out to be a great adventure to South America. Perennial traveling companion Paul sent me a text on my birthday last month, wondering if I wanted to run Rio on the 28th. Sounded like fun. We booked the trip and signed up for the marathon.
On Friday, I headed for Paul's place in Chicago and we took the train out to O'Hare. Check in. "Do you have a visa?" It turns out that while most of the South American countries will let you get an entry visa at the airport, Brazil won't. We called the local Brazilian Consulate. Six days minimum, and that's if you come in during the three hours they're open on Tuesday or Thursday and come back to pick it up during the three hours they're open on Monday, Wednesday or Friday.
So, here we are at the airport, trying to figure out how to make the best of the situation.
Meanwhile, back at the ranch....
The lovely Francine is getting ready to head to Charlevoix for a marathon tomorrow. After a check of other international and domestic marathons we might do, we decided the best plan was to head for Charlevoix. We got on the train back to Paul's, and into my van. It was about a five hour drive plus a stop or two for gas and food, and at about 9:30 we arrived. Francine was happy to have our company, so happy in fact, that she proceeded the next morning to blow away her age group by about 20 minutes. About a half hour later, Paul and I crossed the finish line.
Well, just doing a marathon in Michigan instead of Brazil wasn't quite enough. Since we were already up north, Paul and I said goodbye to Francine and headed UP north. To the Upper Peninsula, that is. We stopped on the way up at Legs Inn in Cross Village for a beer and a snack, then headed across the Bridge and across the UP to L'Anse, Michigan.
We stopped at the Marquette Harbor Brewery in Marquette for dinner and a pint on the way there, and enjoyed the Lake Superior scenery on the way.
Mt. Arvon, the highest point in Michigan, is only about 20 miles or so east of L'Anse, and we headed out on Sunday morning, driving on roads that gradually diminished in width as we got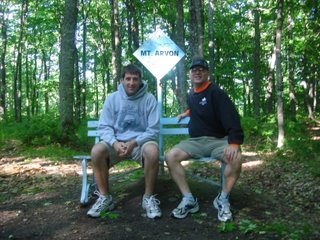 closer to the trail head. It was only a half-mile hike once we got there. At only 1979 feet, Mt. Arvon isn't all that hard, but if you're going to do all 50, you have to do the easy ones too. At least they make you walk a half-mile uphill to get there. The worst part was the mosquitoes! I think I was about a pint low on blood as we returned to the car.
Check off another thing from my list. Next--Swim in each of the Great Lakes. So far, I've done Michigan, Huron, Erie. And look, here's Lake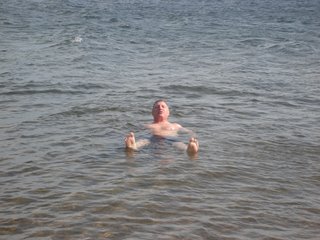 Superior. We drove back to L'Anse, pulled up to the public beach, and jumped into the VERY COLD water. Refreshing would be a good word. Significant shrinkage would be a good phrase. Lake Superior. Check!
On to Duluth, Minnesota, then northeast along Lake Superior about 90 miles, then north into the wilderness for about 22 miles to the trail head for Eagle Mountain. We barely got out of the car before the Minnesota State Bird (the mosquito) started attacking us, draining even more of our blood. We decided to keep moving, since the faster we walked, the less they drank. The rain was steady but not hard as we followed a rocky trail to the top. We ran into a couple from Texas coming down that we had seen earlier on Mount Arvon, and they were kind enough to share some skeeter-dope with us.
Most of the actual climbing happens in the span of about 15 minutes, and that started right about the time we left our Texan friends. We had to search around a little at the top to find the actual high point, since on the rocks the trail tended to disappear. But after just a couple minutes we had arrived at the top of Minnesota!
The wind started picking up and getting colder, and we wondered if we were going to get some serious weather as we headed down the mountain. My bigger concern was if we could get back to the nearest brewery in Duluth so that I could collect a beer glass before they closed for the night.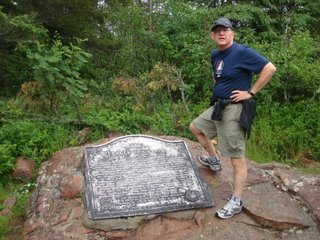 Eagle Mountain, the high point of Minnesota, elevation 2301 feet. Check.

We got back to the car and shut the doors before any more of our six-legged friends could get in, and started following the directions on my GPS back toward Duluth, rather than just following the road we came in on. Unfortunately, the GPS turned out to be kinda stupid on the little roads, and after driving on continually worse and worse roads and coming upon a small "lake" in the middle of one and turning around. Fine, we'll go out the way we came.

So, after a bit of detouring, a back window that we couldn't see out of from all the mud that had splashed on it, and a 40-minute-longer-than-it-should-have-been drive, we got back to Duluth to Fitger's Brewery. The kitchen had closed, but the beer was still flowing. A pint of Parr's Porter really hit the spot. I asked about beer glasses, and the bartender brought five different designs, none of which matched the beer I just drank. So, I had to drink a pint of Big Boat Oatmeal Stout before I could justify the glass I had just picked out. Darn it!

Collect a beer glass from Minnesota. Check!

We got a referral for a Pizza Luce and had a great pizza before heading back south. By that time is was about 1:00 a.m. We got just into Wisconsin for a few minutes and stopped for the night. I don't think either of us took more than a few seconds to fall asleep. It was a good day. Two mountains, one Great Lake, and a micro brewery.

By late afternoon, we had traveled the length of Wisconsin, and pulled back into the driveway at Paul's condo, completing a full circumnavigation of Lake Michigan. I headed for home, where the lovely Francine awaited my arrival.

Plan A was travel to Rio, run a marathon, and be tourists for a couple days. Oh well. Rio will still be there. Plan B included marathon #179, state high points # 34 & 35, Great Lake #4, and 32 state beer glasses!

and the adventure continues....