Yeah, don't be fooled. I just finished my 2009 in review thing a couple minutes ago. I dated it Dec 31, but it's already Ground Hog Day.
The end of 2009, I had run 38 states plus DC on my second time around the US doing marathons. I had visited the highest points in 37 states. And I had a collection which includes at least one beer glass from a brewery in 35 different states. This year is about working toward completing the collections.
I started the year with a trip. Central Michigan University, my alma mater, was playing Troy in the GMAC Bowl in Mobile, Alabama on 6 January. It was the opportunity I was looking for to get out of the cold, collect a few glasses, and go to my first ever bowl game.
The cheapest flights I could find went into Pensacola, FL. Nice, since I didn't have a Florida beer glass yet. After landing, I headed straight for McGuire's Irish Pub and Brewery, where I enjoyed some decent beer, hung out with a few guys watching the Orange Bowl.
Off to Mobile the next morning. I was hoping to collect a glass from a brewery there, which, unfortunately had closed only a week before. Alabama is proving very elusive in my quest for a microbrewery there. Oh well. I went across the street to HopJacks, where they had lots of good stuff on tap. I got the lowdown on the brewery across the street while enjoying lunch along with some Sweet Georgia Brown (Atlanta Brewing Co.) and some Andy Gator (Abita Brewing in Louisiana). I stopped on the way out to visit with a few people wearing maroon and gold, one of whom turned out to be our quarterback's father.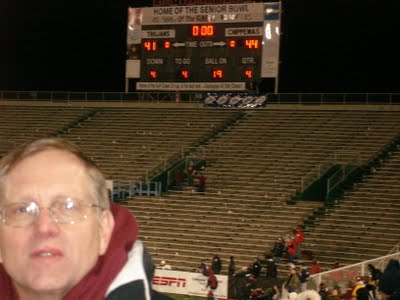 The "getting out of the cold" thing wasn't working well. I had fun anyway. Seats high up, near the 50 yard line gave me a great view of the game. I met Chris Turner and his son before the game outside the stadium, then ran into them again on the way to my seat. Turns out we were right beside each other. So we enjoyed the game in the near-freezing temperatures, watching a perfectly-scripted 44-41 double-overtime win by our favorite team! Fire Up Chips!!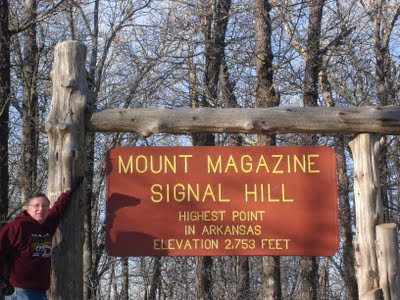 I got in the car and headed for Arkansas, alternating between driving and sleeping. By 11:00 the next day, I pulled into Bosco's Brewery on President Clinton Avenue in Little Rock. Lunch with a "Bosco's Famous Flaming Stone Beer" was just what I needed before heading a little farther west. By about 4 that afternoon, I reached the summit of Mount Magazine, elevation 2753, and the highest spot in Arkansas. I headed south to El Dorado, hoping to pop in on my old friend Knox White. No answer, and the house was dark, so I guess I missed him. A night sleeping in a bed was quite comfortable for a change, watching the National Championship game and eating a pizza before going to sleep and preparing for the next leg of the trip.
Early Friday--turns out it's only a little over an hour or so to the high point of Louisiana. I headed south, and by about 8:00 had made the arduous climb to the summit of Driskill Mountain, elevation 535 feet. OK, maybe not so arduous, but what the heck. At least you have to walk a mile to the high point. In the snow.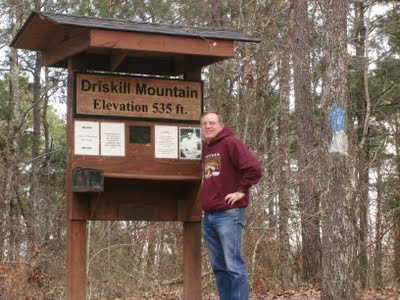 Back in the car, to Jackson, Mississippi, for the Mississippi Blues Marathon. As soon as I got to the expo, I ran into a couple of friends from the Costa Rica trip last September, Kenneth Williams and John Aikin (aka Big Foot). Spent a bit of time talking with Bill Rodgers and Dane Rauschenberg at the book signing table. Lots of friends were there, I found, since there was another opportunity to run a marathon in Mobile on Sunday, so a lot of 50-staters were doing doubles. I figured I'd have enough by the end of Saturday, so I didn't sign up for Mobile.
The marathon was 18 degrees at the Start. Nice course, some of the most polite course volunteers I've ever seen, with a few butt-kicking hills in the last few miles. A half mile from the end I saw my first dead runner on the side of the road. Chris Brown was running the last leg of the relay. His team was already out to where he was, along with the EMTs who were working on him. I paused for a minute, starting to get tears in my eyes, then realizing that I was powerless to help. I went on.
After taking my stuff to my car, I went to walk through the lobby one more time, and ran into old friend, John Dietrich. We went out to get some late lunch before going our separate ways.
During the past three days, at least three people had told me about Southern Pecan Beer from the Lazy Magnolia in Kiln, MS. OK, I needed a glass from Mississippi, and I needed to head south anyway. I drove to Kiln to the brewery. Which, I found, isn't a pub. It's a garage on Stennis Air Force Base. So I drove back into Kiln and went to the Jourdan River Steamer bar and had a pint of Southern Pecan and some supper while watching my 4th football game of the extra-long weekend. Oh, and a pint of Rebel Ale as well. (I had to get the Lazy Magnolia glass through the mail a week later, but I HAD been there.)
It was a leisurely drive back to Pensacola along the Gulf Coast, on a sunny morning that was even starting to warm up a little. I made a cursory drive around Mobile but didn't happen to intersect the marathon course anywhere, so I just went on to Pensacola and back to McGuire's for lunch.
As I turned in my rental car, the Avis attendant looked up at me when I told her the mileage on my car. "You've driven 1500 miles?" "Yeah, that's about right." A short flight and a long layover in Dallas had me watching yet another football game, which ended just a minute before they called us to board the flight. So in the first week of the 2010, I had a great time. Collected three beer glasses. Climbed two state high points. Ran my 3rd Mississippi marathon. Watched my team win a bowl game. Came home to find the lovely Francine. Life is good.
and the adventure continues....