Impatience. That's what I've been feeling lately. It happened when I was about two-thirds of the way to doing marathons in all 50 states. Now it's twice as bad--I have marathons in 34 states for the second time around. I also have summitted 30 of the state high points. So, I'm now in Delaware, indulging my impatience by knocking a few more things off my list.
I arrived at Newark, NJ airport about 9:30 last night, and headed north to High Point State Park, the location of the most unoriginally named of the state high points. High Point. Elevation 1803. Approaching the park from the south, the obelisk monument at the top is well lit and visible from several miles away. Unfortunately, the gate was locked so I'd have to come back in the morning.
It's only about five miles to the New York border, where I spent the night. In the morning, no monument to be seen. Not much fog until I got to the park entrance, but then everything fogged in.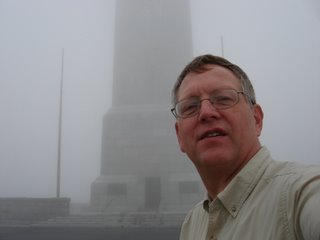 Well, it's a not-very interesting story from there. I drove to the monument, parked and walked about 100 yards or so up hill to the highest point in New Jersey. Hung out with a couple kids who were filming a little school documentary.
Next stop, Wilmington.
I enjoyed a relaxing drive south through Pennsylvania and into Delaware, straight to the Iron Hill Brewery for some lunch. Oh, and a pint of Pig Iron Porter and another of Ironbound Ale. I sat at the bar talking with a runner friend Kenny, and another guy who was a member of the brewery's mug club.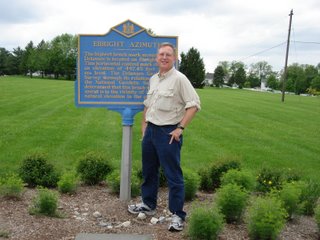 Turns out the Delaware high point is only about five miles from my hotel here. I followed the easy directions and arrived right at the spot. Only the second lowest of the state high points, at 488 feet, Ebright Azimuth is really just a USGS marker on the edge of a sidewalk, and a sign a few feet north. I took a couple pictures and went to leave before being caught on the way back to my car by Doreen Kupchick. She owns the house across the street and is the self-appointed guardian of the pinacle of Delaware. She offered to take my picture by the sign, and then shared with me many stories of the high point and the people who had visited there.
And the high point is only about 200 feet south of the Pennsylvania border. Back in the 1960s, the TV show Candid Camera set up there and told people coming in from Pennsylvania that because Delaware is a small state and there wasn't enough room, they'd have to wait until a car drove out before they'd let one in.
Doreen also knew of nearly every rock or bit of dirt that had been moved or rearranged anywhere around the area. The "high point" isn't really very well defined--more of a little plain rather than a hilltop, so there are ongoing discussions of where the "real" high point might be.
She started to tell me about an Austrian guy who had done all kinds of things, climbing, marathons.... Sounds like Helmut, I said. She showed me a picture of him in a magazine--I told her about him. Helmut's a good friend who I met on a trip to the North Pole. So I got to share a couple stories with her as well.
We parted after a very pleasant half-hour or so. State high points 31 and 32. And a beer glass collected from Delaware.
Tomorrow morning it's the Delaware Marathon.
and the adventure continues....